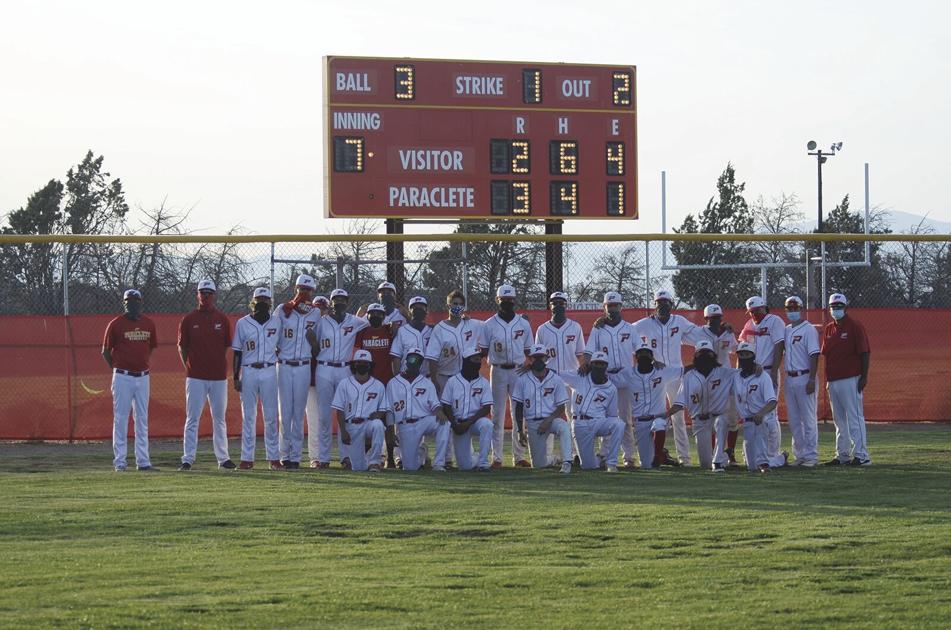 AVC tennis takes first victory | Sports
[ad_1]
LANCASTER – The Antelope Valley College women's tennis team recorded their first win of the season, beating College of the Sequoias 5-4 at home on Saturday.
"I'm so happy for all of them that we were able to put it all together and get a win," said stroke coach Justin Webb.
The Marauders (1-5) showed great improvement every time they hit the field and knew a win was near.
They avenged a 5-4 loss to Sequoias last week and many scores improved week over week.
One of the big differences this week was that Marbella Rubio scored a big 6-0, 6-0 victory in the No.3 singles after losing to the same opponent last week, 7-6 (7-5), 6-2. It was his first victory in over a year.
Kristi Henderson and Frida Anguiano won their doubles match 8-2 ​​and Henderson won their singles match 6-0, 6-1.
"Kristi continues to be very consistent," said Webb, adding that she hasn't felt her best the last few games, but she hasn't let it go.
Gabriela Garcia and Jessica Huynh won their default doubles match and Huynh also won their default singles match.
Webb also saw an improvement from Rubio and his doubles partner Juliana Martinez, who were playing together for just the third time this season. They had match point but ended up losing their set 9-7.
Garcia lost her singles match 6-1, 6-1, while Martinez fought well at No.5, but lost 2-6, 6-4, 10-7.
Anguiano also improved his singles scores from last week, dropping 6-4, 6-4, after losing 6-0, 6-0 last Saturday.
"Frida played 5 and 6 singles for us last year and she is at 2 this year," said Webb. "The amount of progress she has shown is just amazing. Really satisfied with his improvement.
The Marauders head to Santa Monica on Tuesday.
LANCASTER – The Antelope Valley College women's softball team swept a doubles program against Bakersfield on Saturday 11-6, 14-6 at Antelope Valley College.
The Marauders improved to 5-3 overall and 2-2 in conference after losing a doubles program at Bakersfield on Thursday.
"I'm very proud of the girls who bounced back from two tough losses at Bakersfield on Thursday," said stroke coach Cindy Vargas.
In the 14-6 win, Hailey Johnson led the Marauders with three RBIs, 3 for 5 with one run scored and Mycaela Chavez 3: 4 with two RBIs and two runs.
Amy Manzo and Trinity Holman both finished with two hits each. Manzo had a run batted in and a run and Holman scored three runs and led a pair.
In the 11-6 win, Johnson and Maritza Arroyo both achieved three points apiece. Johnson was 2-for-5 with two runs scored and Arroyo was 2-for-4 with two runs.
Ariel Nieto, Nayely Delgado and Chavez all had three hits each. Nieto scored two runs and scored another, Delgado had two runs batted in and Chavez scored two runs and scored another.
QUARTZ HILL – The Quartz Hill baseball team defeated Highland 12-0 in a Golden League tournament game at Quartz Hill High on Saturday.
Colin Stout made his first college start on the mound for Quartz Hill (12-2, 5-1) and threw a full-game shutout. Stout allowed two hits, two walks and four strikeouts.
The Royals took a 6-0 lead in the first inning, evidenced by a brace from Cade McPherson with two strikeouts.
Quartz Hill header Logan Reddemann went 2-for-3 with two runs batted in and two runs scored and Dominick Lee was 2-for-3 with two runs batted in and one run.
Troy Lewis and Shea Lewis both had a hit for Highland.
Quartz Hill was scheduled to play two games against Antelope Valley next week, but the games are called off after the Antelopes called off their season.
LANCASTER – The Paraclet baseball team tied for first place with a seventh inning rally against Sierra Canyon in a 3-2 victory Friday at Paraclete High School.
The Spirits (10-4, 5-1 in the Gold Coast League) trailed 2-1 with two strikeouts late in the seventh inning.
Cameron Estes started the rally hitting on an error, pinch hitter Nathan Corugedo followed with a 3-2 count and both runners advanced on a passed ball to put the runners in second and third.
Jacoby Madise won the game with a two-run down center single on a 3-1 count to give the Spirits a victory on foot.
Bryan Peck took the victory over the mound for Paraclete, allowing two runs on six hits in seven innings, striking out eight batters.
Paraclete will play at Campbell Hall on Wednesday at 6:30 p.m.
PALMDALE – The Knight girls' basketball team weathered a Palmdale rally in a 48-43 Golden League win on Friday at Palmdale High School.
Knight led Palmdale 14-5 in the first quarter, but was outnumbered by the Falcons 15-8 in the fourth.
Knight junior Blessing McBride led the Hawks with 13 points, nine rebounds, three assists, two steals and one block, rookie Amia Tate had nine points, 11 rebounds, five assists and six steals and junior Oluwatoyin on Sunday added six points, eight rebounds, two assists and three blocks.
PALMDALE – The Highland boys' basketball team started the second half of the season with a 74-37 Golden League win over Littlerock on Friday at Highland High School.
Highland's Marlon Young was one rebound from a double-double, finishing with 17 points, nine rebounds and one block, while teammate Isaiah Straight had 16 points and led the defensive effort with seven interceptions. Ramar Whitmore finished with 17 points and four assists.
Highlands coach Chris Cole said he was proud of the players and their determination to bounce back into the second half of the season and show improvements in every game.
[ad_2]
Source link