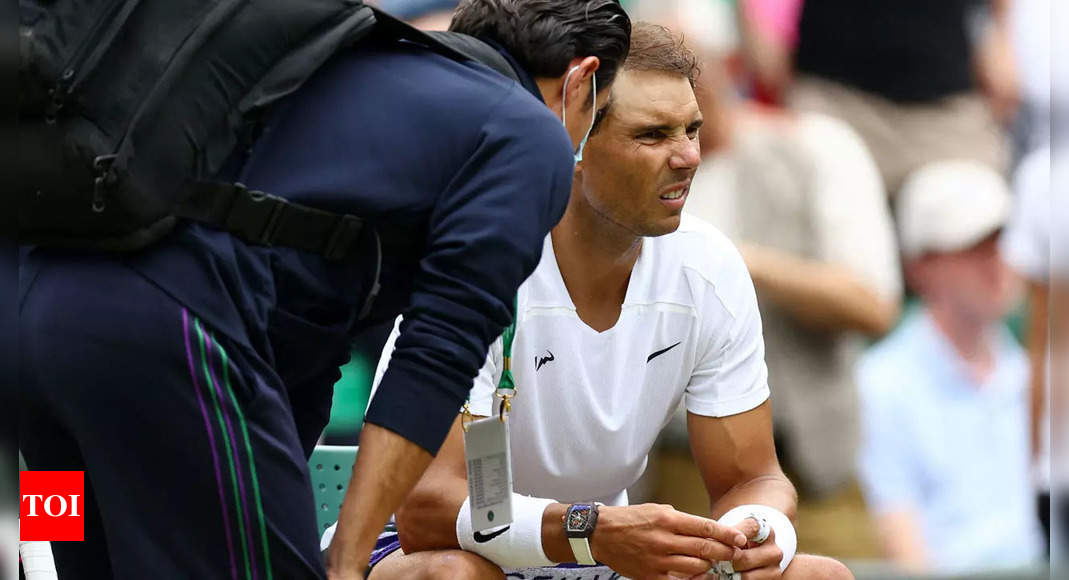 Wimbledon: Happiness greater than any title, according to Rafael Nadal | Tennis News
LONDON: A seven-millimeter tear in the abdominal muscle slowed Rafael Nadal's serve on a shallow opener and derailed his charge towards a historic Slam on the calendar.
The 36-year-old has retired from his Wimbledon semi-final against Nick Kyrgios on Thursday night, saying he was unable to win two matches at this level of competition given his condition.
"For me the most important thing is happiness more than any title," Nadal said. "Everyone knows how much effort I put in to be here. But I can't risk this match (semi-final) and stay two or three months out of the competition because it's going to be a difficult thing for me. me. If it still happens, it's not because I didn't do things right. It's my decision and I have to live with it.
The Spaniard, who won the Australian Open and the French Open to take his Grand Slam tally to a record 22, said he was not considering the opportunity to win. tennis' four majors in the same season despite his position.
"I never thought about Calendar Slam. I thought about my daily happiness and my daily work. Just play for the things I really feel," he emphasized.
Nadal played with pain last week. It was in the second set of his quarter-final clash against Taylor Fritz, however, when the bad guy went broke.
"There is always a choice, but in this particular case it is obvious that if I continue the injury will increase," he said.

It will take Nadal three to four weeks to recover and he hopes to return to competition for the American hard-court swing.
"I can't keep playing, but in a week I'll be able to play from the baseline," he said. "Not serving for a while, of course. Playing from the baseline won't be a big deal. In a way, it's a positive thing, that I'm going to continue to be able to train from the baseline. It helps to try to make the calendar I want to make.