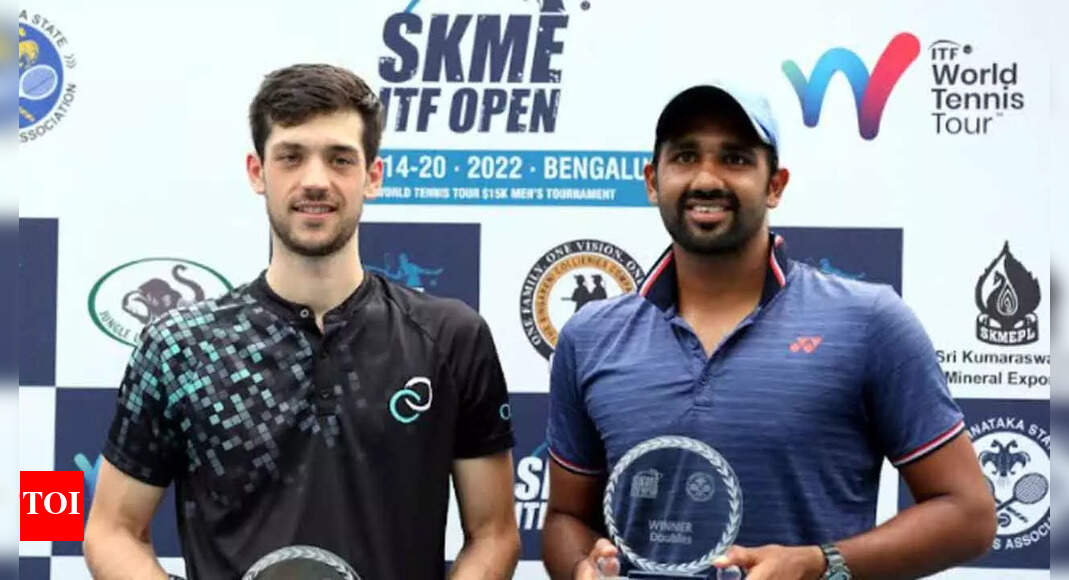 Kadhe and Rawat in the ITF singles final | Tennis News
Bengaluru is proving to be a happy hunting ground for Pune boy Arjun Kadhe.
The 28-year-old, who just won the singles title in Bhopal last week, moved one step closer to a back-to-back trophy by reaching the $15,000 ITF SKME Open final in Bengaluru on Saturday.
The student of Hemant Bendrey also won the doubles title with Julian Cash of Great Britain, repeating the success he tasted at the Bengaluru Open Challenger tournament in February.
In the singles semifinals at KSLTA Stadium, fifth seed Kadhe defeated 18-year-old Maks Kasnikowski 3-6, 6-4, 6-2 to seal his place in Sunday's final.
Curiously, in the clash at the top, he will face his compatriot Sidharth Rawat, whom he had beaten in the Bhopal final.
Rawat defeated Tamil Nadu youngster Manish Sureshkumar 6-2, 7-5 to set up a rematch with Kadhe.
Kadhe then teamed up with Cash to win the doubles title, with the top seeds edging out Sasikumar Mukund and Vishnu Vardhan 7-6(5), 3-6, 10-7.
In the first singles semi-finals, Kadhe and Kasnikowski held their serves until the fifth match, after which the Pole won four straight matches to win the first set.
Kadhe then took a 4-2 lead before taking the second set and took the match in the decider where he took full command.
Kasnikowski was only able to hold his serve in the first and seventh games as Kadhe, who sent 11 aces during the match, navigated the final set and won the match.