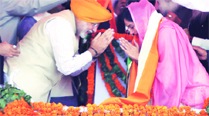 In Punjab, Modi says farmers' welfare tops his agenda
[ad_1]
BJP prime minister candidate Narendra Modi said on Sunday he would act as the country's "chowkidaar" and ensure funds are used for "optimal development work" if he becomes prime minister.
Addressing the 'Fatah gathering' here, Modi expressed concern over the threat of drugs consuming young people in Punjab, called Punjab Chief Minister Parkash Singh Badal his 'political guru' and said there was no truth in the reports of displacements of Sikh farmers from Kutch region of Gujarat.
"No Sikh farmer will come out of Gujarat and if any officer dares to make a mistake, that officer will have to go but not my Sikh brothers," he said.
He said: "Gujarat is as much for any other Indian as it is for me and I owe a lot to my Punjabi farmers who are settled in Kutch. They are the ones who made this arid land fertile. So stop listening to rivals (Congress) who are misleading you on this issue.
In an effort to strike a deal with the large farming community in the state, Gujarat's chief minister said: "If we are chosen in office, we will divide the Food Corporation of India (FCI) into three parts: the supply, management and distribution. This is the only way to get the best use out of food grains that are currently being destroyed by being kept in the open or rotting in warehouses.
"In order to make any country's economy strong, there must be three pillars of equal strength: one-third each for agriculture, manufacturing and service sectors," he said.
BJP Chairman Rajnath Singh said: "The NDA government will implement a Farmers Income Insurance Scheme once it takes office with the MSP being announced well ahead of the planting of a crop. . A separate channel just for agriculture, a separate budget for agriculture, easy loans at an interest rate of 1-2% for self-employment programs and much more will be on the horizon.
Praising Badal, Rajnath said, "Parkash Singh Badal was the first NDA partner to support Modi's name as Prime Minister," to which Badal replied, "So he (Modi) should now be called the NDA's candidate for prime minister, rather than the BJP alone."
[ad_2]
Source link