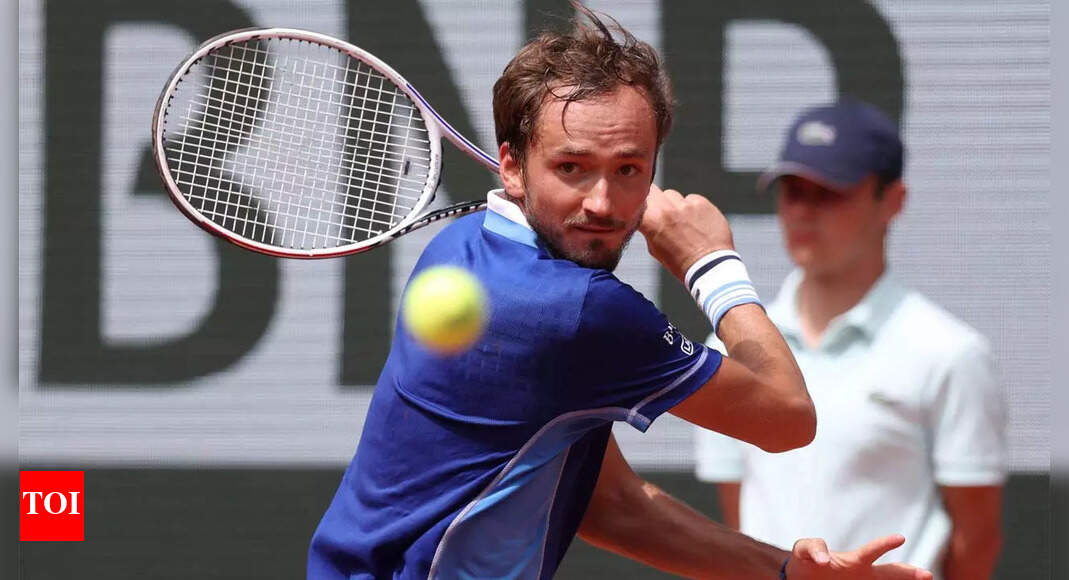 I prefer hard courts, I can play better there: Daniil Medvedev | Tennis News
[ad_1]
PARIS: What does love have to do with it, asks Daniil Medvedev. The world No. 2 is coached by a Frenchman – Gilles Cervara and he charms Parisian fans by doing his on-court interviews in French, but all he seeks on the convincing red clay of Roland Garros are wins. of game.
"I want to win," he said on a wet and dismal day on the Philippe Chatrier court as he pushed and shoved his way through the second round of Roland-Garros.
Medvedev, who was receiving clay treatment when he played against Laslo Djere five years ago in Budapest, fought back on a trying Thursday to score a 6-3, 6-4, 6-3 victory and put in place a Meeting on Saturday with the Serbian Miomir Kecmanovic.
While the scoreline against Djere seems straightforward, it was a blistering brawl between two 26-year-olds who were switching gears. The 60-minute third set, no more than nine games, summed up the exchange. It was the kind of morning where coffee and conversation were the order of the day and the duo in the middle played the tennis version of it. They played lines and angles like a radio jockey breathing intensity. A total of 229 points were contested in the match of which 101 were contested in this third set, which resulted in Djere's 35 unforced errors out of a total of 68 he committed during the 2-hour match 35 minutes.
A light morning drizzle played with the conditions setting the stage for the contest.
"When it's wet, the balls get heavy after about two shots," said the world No. 2. "I couldn't really get the ball through the air quickly. So many balls, I was just trying to put it in the field.
"Today was a very clay game because there were a lot of break points. Until the end of the game, I felt it was never over," Medvedev said. On hard courts it's never over either but when you're like 5-3 in the second leg you're not going to make crazy moves You're going to prepare your serve more On clay it's not working not like that. You have to fight for every point, no matter the score.
"I prefer hard courts. I think I can play better there," he said, adding: "But when I'm on clay I want to win. This is the most important thing. I'm not going to say I love it, but I'm trying to figure out how to get good results on clay.
In other matches, world No. 1 Iga Swiatek extended her winning streak to 30 games when she knocked out American Alison Riske 6-0, 6-2 in the shade in an hour.
In another women's second-round encounter, eighth-seeded Czech Karolina Pliskova lost 2-6, 2-6 to French wildcard Leolia Jeanjean.
[ad_2]
Source link