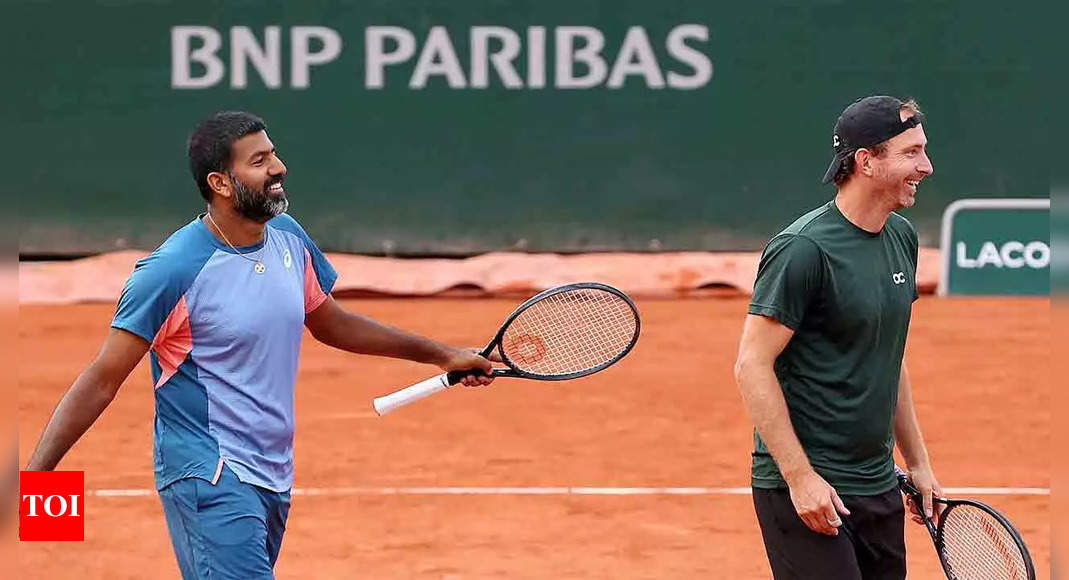 French Open: Difficult defeat for Bopanna-Middelkoop | Tennis News
[ad_1]
PARIS: Rohan Bopanna and Matwe Middelkoop chased the Dutchman Jean-Julien Rojer and the Salvadoran Marcelo Arevalo to the boards during the super tie-break of the semi-finals of the men's doubles at Roland-Garros. They ran hard, used the pitch and hit hard balls, but in the end they just fell short.
Bopanna and Midelkoop lost 6-4, 3-6, 6-7 (8-10) in a matter of 2 hours 7 minutes where the emotion was at its height on the Court Simonne-Mathieu.
"I'm disgusted by the loss, no doubt about it," said Bopanna, who was in his fifth major men's doubles clash, and his first at Roland Garros. "We've played well these two weeks, we've fought hard games…and then being two or three points short of making the final is tough."
Bopanna and Middelkoop led 2-6, 4-7, 6-8 in the super tie-break but they were never quite out of place even after Rojer and Arevalu combined the set scores.
"They started to serve better when the sun came up, around the middle of the game. The balls were flying," Bopanna said. "Jules (Jean-Julien) flew very well and played very well on the big points."
Bopanna, visibly dejected, has dedicated the last two weeks to his late uncle Raja Nanjappa, who died the day the tournament started. "I was extremely, extremely close to my uncle (my father's older brother), it was his memory that kept me going for the past two weeks. The 13th day ceremony is tomorrow," said said Bopanna.
It was inevitable that the crowd would feel drawn to the contest given the intimate setting of the arena. In the 10th game of the second set, with Arevalo serving to level the scores in the set, there were vocal cheers that started when the point was in play.
Bopanna watched the crowd, but was stopped by the chair umpire, who thought he was in a verbal duel. The 42-year-old clarified that he was not talking to anyone and play resumed.
[ad_2]
Source link