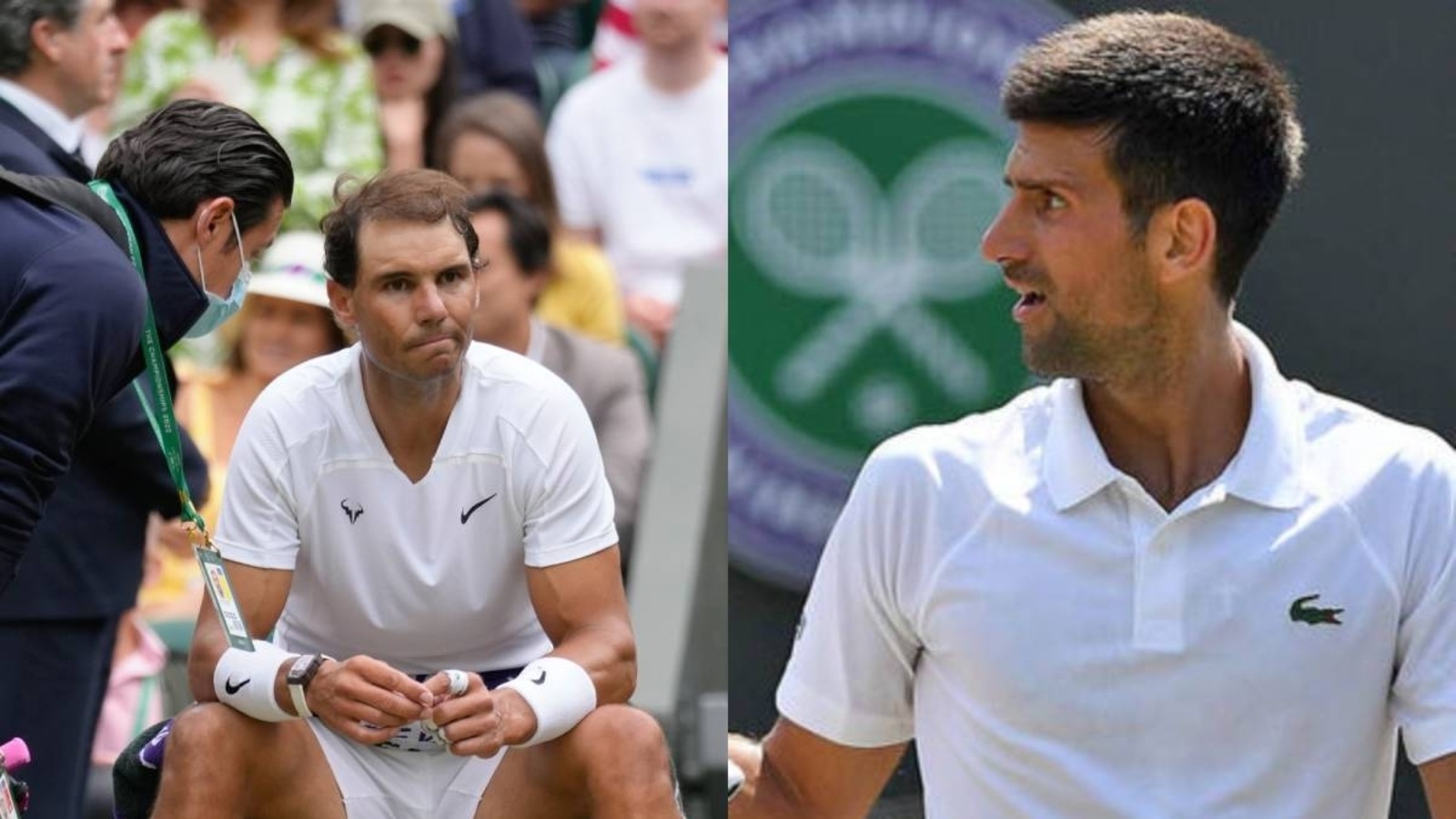 Djokovic reacts to Nadal's withdrawal and makes a shocking injury revelation | Tennis News
The tennis world was deprived of what could have been a blockbuster Wimbledon final between Rafael Nadal and Novak Djokovic on center court on Sunday, with the two-time champion withdrawing from the tournament with an abdominal injury earlier this week before an even more anticipated clash against Nick Kyrgios in the semi-finals. And ahead of his eighth All England Club final, Djokovic had his say on Nadal's announcement before making a huge injury reveal about his injury ahead of the final against Kyrgios. (Novak Djokovic vs Nick Kyrgios Wimbledon 2022 Final Live Score)
Nadal had aggravated his abdominal injury as he reportedly suffered a 7mm tear in his five-set quarter-final against Taylor Fritz on Wednesday. But despite the inspiring win which helped him maintain his Wimbledon quarter-finals unbeaten record, Nadal chose to opt out citing it could end in a career-threatening injury if he continues playing against Kyrgios. in the semi-finals.
READ ALSO : Wimbledon 2022 Final Novak Djokovic vs Nick Kyrgios: Draw, Key Stats, Online Records – All You Need To Know
On Saturday, ahead of the summit clash, Djokovic recalled a similar injury he suffered in his third-round match against Fritz at the 2021 Australian Open and compared his situation to Nadal's.
"I don't know exactly what the nature of Rafa's injury is. I heard it was a tear in the abdominal muscle, but I don't know which muscle. I tore an oblique muscle on my left side during of the match against Fritz. It is clear that it is extremely difficult to play under these conditions, but the whole process depends on the exact place where the tear is. Personally, I had the most pain on the serve", said said Djokovic.
READ ALSO : Kyrgios' 'unreadable' weapon that could help Aussie beat Djokovic juggernaut in Wimbledon final
The Serb added: "With my physiotherapist Uli, we managed to manage it to a degree that allowed me to play. Although it sounds crazy, I felt better over time. An MRI showed that the tear was getting bigger, but we managed to numb the pain – I didn't feel it during the games, which allowed me to go all the way".
The 35-year-old, however, praised Nadal and how he fought through the pain to win the quarter-final.
"Injuries are every athlete's worst enemy. I give Nadal a lot of credit for how he fought and won that quarter-final match with that injury. He is the one who knows his body best, so the decision to continue or not was always up to him. It's very sad that a tournament as important as Wimbledon didn't have a second semi-final, but that's the way it is."
Djokovic further added that his entire Australian Open 2021 campaign was recorded as part of a documentary to be released later this year.