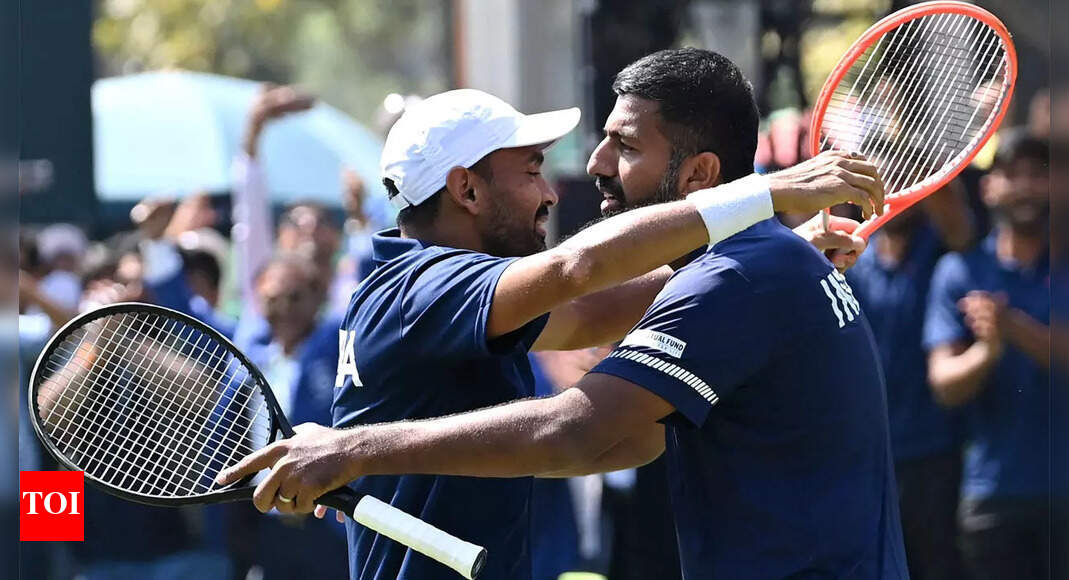 Davis Cup: India too good for Denmark | Tennis News
NEW DELHI: Unlike the first day of the game, the second day was markedly different. It was no walk in the park – as is presumed – for India's Delhi Gymkhana players against the fiery Danes on Saturday. All three Danish players gave the Indians tough fights, and despite the losses they would have come away with their heads held high.
First, Indian doubles pair Rohan Bopanna and Divij Sharan had to dig deep and save three match points to emerge victorious against Frederik Nielsen and Mikael Torpegaard 6-7, 6-4, 7-6 in a hard-fought match which lasted one hour and 58 minutes. Then in the reverse singles, which was dead after the doubles triumph, India's number one singles Ramkumar Ramanathan fought tooth and nail before getting the better of Johannes Ingildsen 5-7, 7-5, 10- 7. The second reverse single was not played.
The final score was 4-0 in favor of India, with Ramkumar and Yuki Bhambri winning their singles matches on the first day. It was India's first Davis Cup win after their 4-0 victory over Pakistan in November 2019. After that, India lost to Finland (1-3) and Croatia (1-3) outside. The victory also secured India's retention in World Group 1 for the 2022 season, while Denmark will return to World Group 2.
"That's what we have to build on, that's what we have. There's no point talking about someone getting into the top 50 or not. We have to fight with that" , Bopanna said later at the press conference.
India's non-playing captain, Rohit Rajpal, who took over the reins of Pakistan's team of the match, said: "We were mixing up our serves, and I was telling Rohan over and over again to mix up, which played in our favor. I'm quite happy with the team. Ramkumar is still here and it's good to have Yuki back in our team. Against Finland it was quite close… but against Croatia it was closer. The team think tank consisting of Zeeshan Ali (coach), Rohan and myself had prepared well for this meeting and I am happy that everything went well for us.
Coach Zeeshan Ali said he was satisfied with the team's performance. "Every player is different. Rohan is good on serve; Divij doesn't have that strong serve but they always combine well. Both played a strong tiebreaker in the third set," he said, adding: "The hit of the match was Rohan's backhand volley.
Denmark captain Nielsen regretted the missed chances. "The serve leaves quickly and becomes very low, which makes it difficult to come back. The Indians made good use of the grass surface and when the court is so fast, it's hard to hit with that kind of speed. Unfortunately, the meeting did not go as we would have thought," he added.