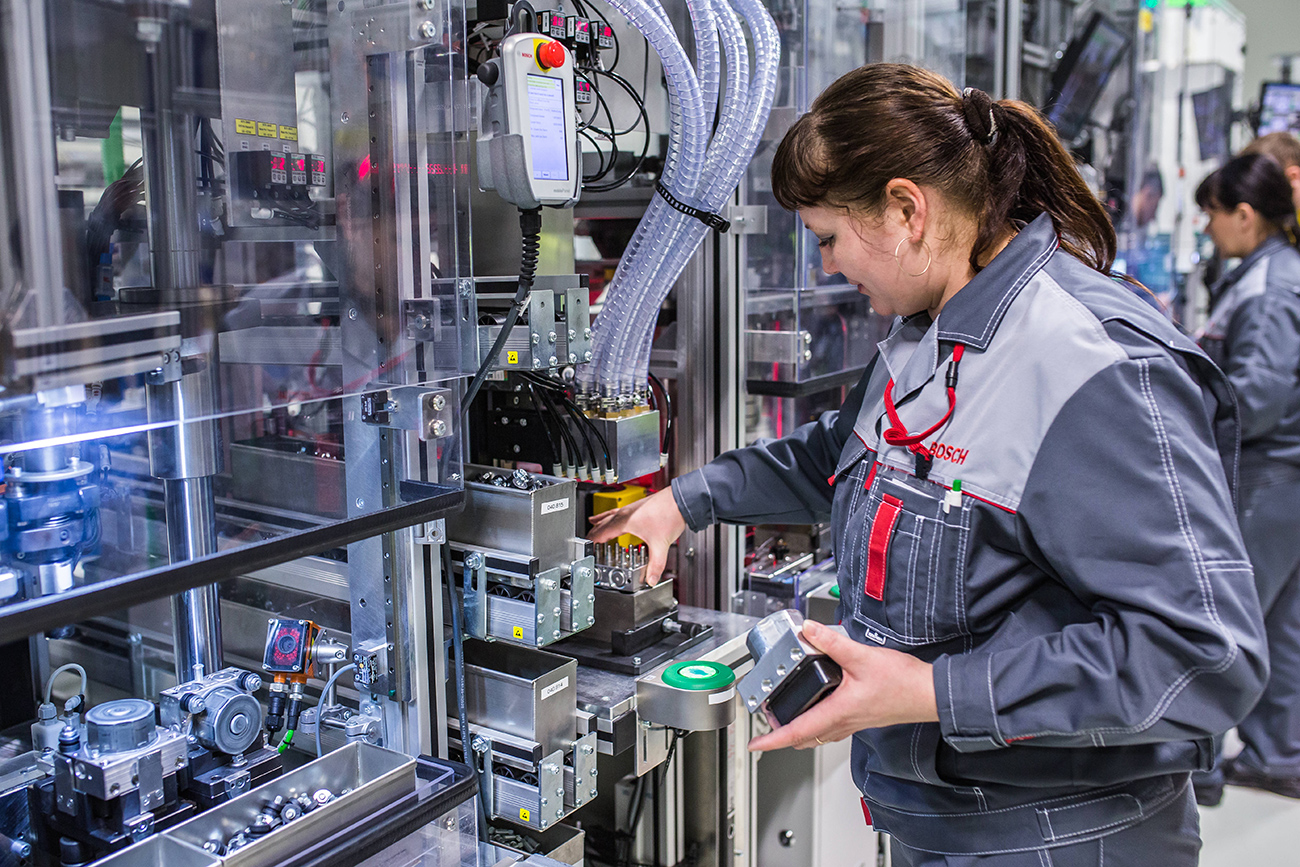 Bosch Group: "We have not withdrawn investments from Russia"
[ad_1]
In 2016, the Bosch Group's turnover in Russia increased by 4.3% compared to 2015, amounting to more than one billion euros.
Press picture
Bosch Group Board Member Uwe Raschke speaks to RBTH about the company's current plans, expectations and challenges in Russia.
Russia remains an important market for the Bosch Group. The company was not afraid of the three-year economic crisis, during which it opened a giant headquarters on the outskirts of Moscow and launched an automotive electronics plant in Samara. In 2016, the company's turnover in Russia increased by 4.3% compared to 2015, amounting to more than one billion euros.
RBTH discussed the plans, expectations and current challenges of the Bosch Group with Uwe Raschke, member of the board of directors of Robert Bosch GmbH, who is responsible for coordinating activities in Western Europe, Middle Eastern Europe, Russia, the Middle East and Africa.
Uwe Raschke. Bosch Group / Press Photo
RBTH: Before the crisis in Russia, many international companies had high expectations of the Russian market, and the Bosch Group was one of them. But due to the crisis, many of these companies have had to abandon their hopes and rethink their plans. In your opinion, is it time to redo big projects in Russia?
Uwe Raschke: You know, Bosch is engaged in very different activities. The first positive message is that we believe that Russia has started to grow again after three years of contraction. I'm not talking about GDP, I'm talking about our businesses. If you look at car production and registration, that market has almost halved since 2013. If you look at the appliance market, it's still much smaller than it was five years ago. So for some markets the recovery may last until 2022, until they return to the old highs of 2013-2014. Other markets will recover more quickly. I think your general statement is not possible for us at this time, but I think we can cautiously base our expectations on continued growth – at least that's what we're seeing now, and hopefully it will will remain so. But these days in the world, you never know what will happen tomorrow. Although it looks like the worst may be over, we are therefore cautiously optimistic.
RBTH: Did Bosch suspend projects in Russia that were planned before the crisis?
Uwe Raschke: You mean if we withdrew investments? The main investments we have made over the past five years have been in our head office in Moscow, which opened its doors two years ago. It's a bit too big at the moment, so it'll last the next 10-15 years, I'm sure. And the second investment was the Samara Automobile Plant, and of course we expected more efficiency for the plant, but we didn't withdraw the investments. We more or less did what we had planned before the crisis.
Bosch factory in Samara
The Bosch plant in Samara, launched in July 2015, manufactures automotive electronic components for cars assembled in Russia – anti-lock braking systems (ABS) and electronic stability programs (ESP). Most of the products are delivered to the largest Russian car manufacturer – AvtoVAZ – whose plant is also located in the Samara region, in Togliatti. Bosch automotive components are also in demand in Moscow, St. Petersburg and Izhevsk. Total investments amounting to 50 million euros have been spent on the construction of a factory, covering an area of ​​more than 22,000 square meters – plus production and equipment.
RBTH: It seems like a very big decision to start a factory during the crisis. So, do you think he has the potential to grow?
Uwe Raschke: Of course, the plant itself has room for growth and there is enough space for more production. Thus, the plant will experience growth in the next few years.
RBTH: In one of your previous interviews with Russian media, you said that despite the construction of the plant in Samara, Bosch cannot use all the advantages of a cheap ruble due to the fact that it is difficult to find suppliers in Russia, so the level of localization remains very low because the costs are still high. Are you still facing such problem?
Uwe Raschke: It's true. For us, we launched the initiative two years ago to strengthen our local offer and we had some success, so we could have increased our localization rate. At the moment, our level of localization is between 30 and 40%, but it has improved over the last two years from 20 to 30%. But we are not where we should be. So we are always looking for what we would call in Germany the "mittelstand", small private companies that develop manufacturing components for us that we can integrate into our systems. Only when we have a high level of localization – up to 80-90% – will we start to experience cross-benefits here in Russia. And I'm glad to see the initiative of the Russian government to start localization. I hope that concrete actions, and not just ideas, will materialize soon. For example, easy loans for manufacturers.
RBTH: In Germany this spring, Bosch and Mercedes-Benz announced they would collaborate to introduce a driverless car by 2021. Local truck maker Kamaz and internet giant Yandex are also working on different driverless car projects. Do you plan to extend your high-tech projects to the Russian market, or perhaps collaborate with Russian companies?
Uwe Raschke: First of all, we are interested in cooperation with our partners in Russia regarding this technology. We will not develop this technology in many parts of the world because we have to concentrate knowledge. For this to be successful, good and fast, we have to try to join forces, and the main development activities for this autonomous driving project will be in Germany, where our RnD centers are concentrated. For these reasons, I don't think we will open R&D centers for core technologies in other countries. But as an automotive supplier, we really want to work with all of our customers. And we are interested in our customers cooperating with us.
Read more: Russian industry to be boosted by leading machinery maker
If you use any or all content from Russia Beyond, always provide an active hyperlink to the original content.
[ad_2]
Source link