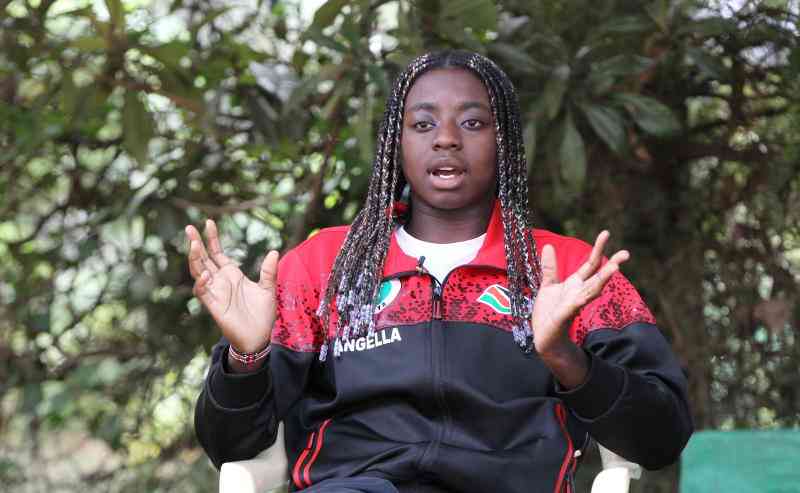 Angella Okutoyi: the tennis star defies all predictions
[ad_1]
At 18, rising tennis star Angella Okutoyi is a household name. Incredibly unlikely. She is a role model and the envy of thousands of young people. Indeed, she is the ultimate celebrity.
When Angella arrives at the Standard Group headquarters for her interview, her hair is braided in multicolored braids. She charms, shining like the morning star.
Coupled with her dark brown skin, her fit appearance and now, her hairstyle, one cannot help but compare her to one of the greatest tennis players of all time, Serena Williams.
And yes, Serena is on his mind and winning in his thoughts.
"I want to be a professional player, win as many Grand Slams as possible, I want to have a good ranking and I hope to be world number one one day," says Angella.
In her youth, Serena was often seen on the court in braids, sometimes colored, sometimes beaded.
But it's not just their similar hairstyles on this Wednesday morning. It is a fact that Angella has already started making her way to professional tennis.
It has only been four months since she made history when she became the first Kenyan to win a Grand Slam title at the Wimbledon Women's Junior Championships. She teamed up with Dutch player Rose Marie Nijkamp for the doubles victory.
The athlete notes that with the support of their coaches, the two decided to enjoy the game above all else.
"Fortunately, I had the ITF (International Tennis Federation) coach – and our coaches – mine and his, telling us to enjoy the moment. That's how we kept our nerves, and I believe in every double, once you enjoy it, you will have a great time.
This came just months after she became the first Kenyan representative to win a Junior Women's Grand Slam match at the Australian Open.
"I started playing tennis when I was four years old. My family is a tennis family, I was introduced to tennis at that age by my uncle Allan Atola and also Joe Karani, one of the coaches in the tennis program I was introduced to," she says.
It's a story of determination and perseverance, no matter the circumstances.
Angella's upbringing was modest and she had to overcome obstacles to get where she is. She and her twin were orphaned when their mother died during childbirth, and life has had its challenges ever since.
"I grew up with my grandmother, my twin sister, an aunt and an uncle. It has always been our family. It was not easy because when I was young I was caring for an aunt of mine who passed away – she had lung cancer," she says.
"It was very hard for our grandmother, who was our mother, our father and our everything until now. We are grateful for everything she has done so far.
The teenager says she has always been grateful to her family, whom she considers her support system.
"It's something special to have someone like your family who is there for you, supporting you and understanding what you're going through."
Speaking about her mental health and how she takes care of herself in such a pressured sporting environment, Angella puts focus at the center of her work.
"In tennis before your match, you have to write your game plan. So I usually have my book, I write down my goals for the game to prepare myself mentally and physically," she explains.
"I find it's a routine that calms me down. In tennis we also have breathing routines, they keep you stable and calm.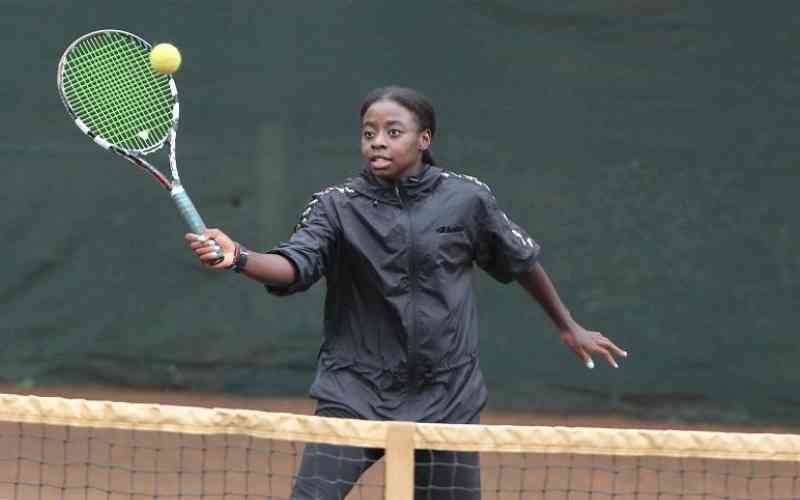 Thinking back to her childhood, Angella's memories of Kenya are hazy. She was only 10 when she got a scholarship to Burundi where she would join an International Tennis Federation program.
This might explain why she speaks with a slight French accent, although the young athlete claims she is also fluent in Swahili.
Angella says the support from the local tennis federation has been good, noting that those around her have always pushed her to greatness.
She confirms that she will join Auburn University in Alabama in the spring of 2023, having already accepted a scholarship offer from the institution.
The tennis player says she chose the school from a wide list of scholarship offers – indeed, many institutions had noted her promising talent and determination.
"I had the help of my coach Francis Rogoi and also the federation, I had 30 university scholarship offers. I narrowed the list down to five. When I was in the US Open tournament , I had the chance to visit four schools," she says.
"I wanted a college that matched my goals so that I could pursue my tennis career. The school I chose, Auburn, aligned with that; and there are a lot of budding professional players there, so I know I will have a motivated and supportive team around me.
She says tennis is a sport anyone can learn, encouraging youngsters to get into it and explore their skills.
"I can tell young people that tennis is for everyone, it doesn't matter if you have money or not, just come and try."
[ad_2]
Source link